Organized by:
Prof. Ludwig, Wilhelminen Cancer Research Institute & EMERI - European Medical Education and Research Institute, Vienna, Austria
Venue:
Hotel InterContinental Vienna
Johannesgasse 28
1030 Vienna, Austria
 
The conference venue is located at the Intercontinental hotel, which will be the hotel for accommodation.
Two days accommodation (23rd – 25th January) in double room for single use, breakfast and lunch and airport transfer in Vienna will be covered.
Delegates are invited for the dinner meeting on the 23rd January at 19:00h, the breakfast meeting on 25th January at 07:45h as well as to the delegate dinner on 24th January at 19:00h (registration for all required).
Language:
The official language of the meeting is English.
Target Audience:
This meeting has been deisgned for myeloma treating physicians and clinical investigators who are interested in understanding and discussing the latest developments in myeloma diagnosis and treatment.
Registration:
Places are limited and subject to acceptance. Once a request is accepted, the EMMA meeting organization will cover registration, accommodation and travel fees. Requests will be allocated in chronological order of receipt of requests.
Each European country will be allocated a given number of registrations in order to ensure an equitable attendance of myeloma treating physicians from each country. In addition, non-European countries will be allocated a few places, as well.
According to the Code of Practice for the Pharmaceutical Industry the EMMA meeting organization will not cover any kind of expenses for guests of Healthcare Professionals or for any other person who does not have a professional interest in the information being shared at the program.
Accreditation:
For the 21th European Multiple Myeloma Academy meeting in Vienna, Austria (24th January- 25th January 2020) accreditation has been requested from the EBAH - European Board for Accreditation in Hematology for 13 European CME credits. Each medical specialist should claim only those hours of credit that he/she actually spent in the educational activity.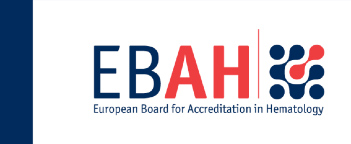 Videotaping:
All presentations will be videotaped and available to the participants for revisiting all sessions. The presentations will be protected by a watermark and access will be granted using a password that will be provided to all attendees.
WLAN:
Access to wireless LAN will be granted during the meeting. The password is EMMA2020.
Congress & Travel Affairs:
Mondial Medica Reisebuero GmbH
Congress Department
Waehringer Guertel 18-20 (AKH), 1090 Vienna, Austria
t +43 1 4024061-0, +43 1 40400-55810
f +43 1 4024061-20
www.mondial-medica.at